By Phil Riley
Wyatt Pavilion left a lot to be desired as a TV studio. The 102-year-old building is normally set up for theater and dance productions, so crews needed five hours to prepare it to record episodes of the campus public affairs broadcast program "Frontiers"--which then risked interruption by the noise of passing trains.
Last year, the Academic Technology Services unit (ATS) of Information and Educational Technology built a new professional TV studio in Surge II, to accommodate various types of campus productions and to give TV stations and networks easy access to UC Davis experts. The studio, now open for limited productions, is flexible enough to support both TV and video productions, as well as still photography.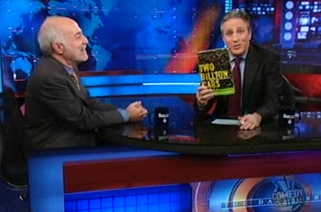 Sperling and Stewart on "The Daily Show" Feb 11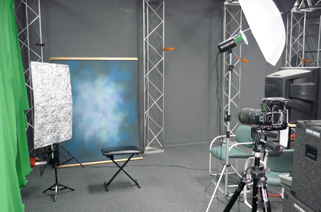 Inside the new studio in Surge II
In February, the studio helped Professor Dan Sperling of the Institute of Transportation Studies rehearse for his Feb. 11 appearance on "The Daily Show" with Jon Stewart. Sperling visited the show to discuss his book, "Two Billion Cars."
"The new studi o is a controlled setting where we can record fast, cost-effective broadcasts," said Paul Ver Wey, media production manager for ATS. Instead of sharing a location and having to plan far in advance, ATS now controls every aspect of the studio. "It should cut production time in half," he said. Working in-house also reduces travel, and saves money and resources.
The 33-by-25-foot studio is located inside Surge II, where ATS has its offices. Normally, a TV studio has its own expensive control room, where the production is directed and produced. Instead, ATS will use its remote production truck--which it can also use for on-location productions--as the control room for the studio, until funds to create a control room are available.
An important use will be providing studio space for TV broadcast operations--such as CNN, ESPN, PBS, or San Francisco or Sacramento stations--to interview faculty experts for news stories.
"This TV studio really puts us in the big leagues among the nation's universities, in terms of communicating our campus's story and connecting our leading experts to a national audience," said Mitchel Benson, interim assistant vice chancellor for University Communications. "In the past, TV networks flat-out told us that they were passing over UC Davis in their search for experts ... simply because it was too much of a hassle to connect with them at TV stations and satellite hubs in Sacramento."
Many faculty also found it a hassle to get to Sacramento studios, especially on short notice.
The studio will be home to campus productions of various types. "Frontiers" would have been one of them, but money for the University Communications/IET project ran out after nine programs, and no new funding is in sight. The episodes all aired locally--KVIE in Sacramento also broadcast a couple of them, Benson said--and continue to be available on the campus iTunes U site.
ATS and University Communications collaborate on many productions. The live or on-demand productions can be viewed by going to University Communications' hosted Web sites, such as the UC Davis home page or iTunes U, that link to the productions hosted on ATS servers. ATS also works with faculty who want to record lectures or review courses and post them on their SmartSite page or on YouTube.
ATS hopes to connect directly to the Network Operations Center in the future, which Ver Wey said could allow productions to be broadcast over ResNet, plus WAVE or Comcast cable. (Staffers in the NOC are responsible for the vast infrastructure of wireless, telephone, data, and radio systems at UC Davis.) Connecting to the NOC will open the gateway to get productions out to TV stations across the country and around the world.
IET and University Communications have talked about the need for a studio for years. Benson and Ver Wey have discussed possible locations, plans and funding sources.
The studio will also be valuable during emergencies, "in instances where we need to get the word out to a broad audience in a timely manner regarding conditions on campus, evacuation directions, and other vital information," Benson said.
For further information on video production, webcasting or the TV studio, contact Paul Ver Wey at paverwey@ucdavis.edu or (530) 752-5818. Learn more about IET-Academic Technology Services at ats.ucdavis.edu.