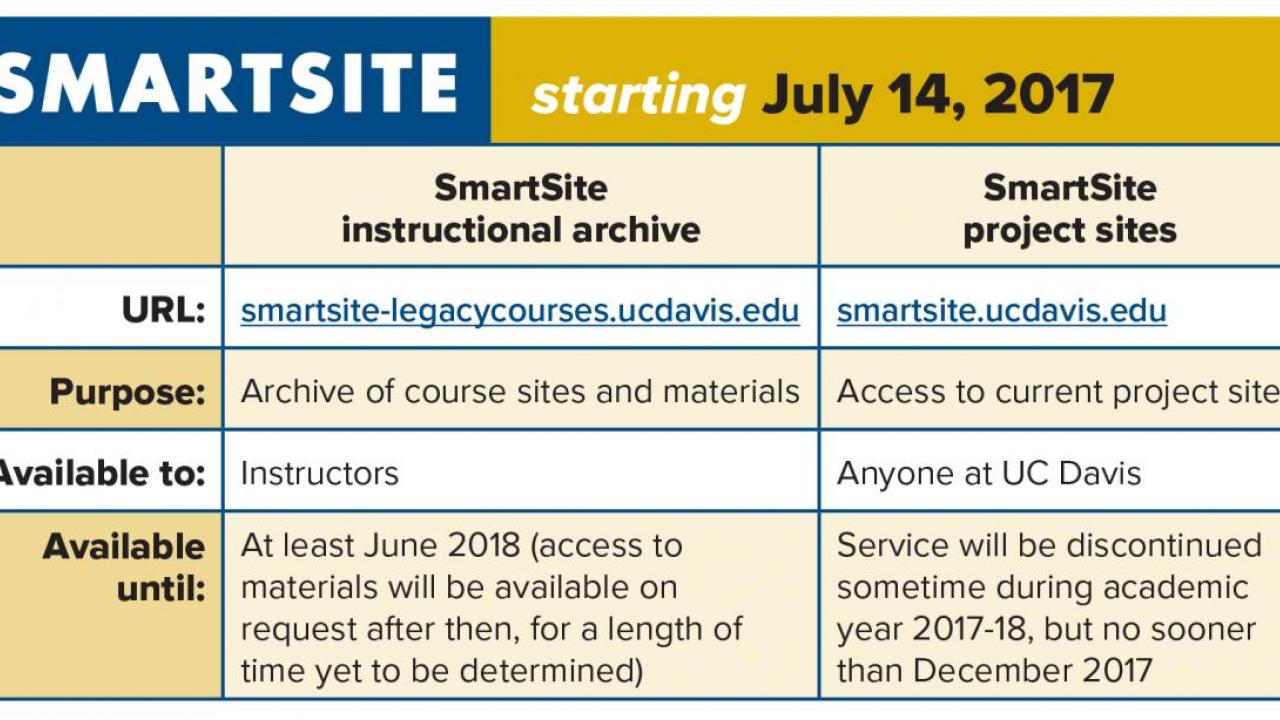 UPDATE 7/14: The SmartSite change planned for July 14 has been postponed. We'll post further information once it's available.
SmartSite is about to be divided in two. The change might sound dramatic, but it's all part of the service's phased retirement plan.
Instructional use of SmartSite ends this month, and on July 14, the part of SmartSite that has supported instruction will be converted into a legacy site, available only to instructors, at smartsite-legacycourses.ucdavis.edu. It will contain materials and sites from past courses.
The rest of SmartSite, which will contain and support project sites only, will continue until at least December 2017 at smartsite.ucdavis.edu. It will be retired sometime in the 2017-18 academic year, and at that point SmartSite will cease to exist as an active service on campus.
Faculty, students and staff have used SmartSite for instruction and collaborative projects from 2006-07 until 2016-17, when the campus began moving to UC Davis Canvas. You can read more about the transition to Canvas at movetocanvas.ucdavis.edu. 
Next steps and access
If you have materials in SmartSite that you want to keep, then you need to save copies and/or move the materials to a replacement service. For courses, this will be UC Davis Canvas. Project site owners can start exploring their options by visiting the projects transition site, which will be available soon at smartsiteprojects.ucdavis.edu.
Anyone at UC Davis will able to access smartsite.ucdavis.edu.
The legacy version with old course sites will be available to instructors through at least June 2018. Course materials left in the legacy version of SmartSite will be available after June 2018 upon request from the instructor, for a length of time that has not been decided yet. Instructors who want to maintain easy access to their prior course materials indefinitely should move them to UC Davis Canvas, or to another resource of their choosing. If you have questions, please contact movetocanvas@ucdavis.edu.
As previously communicated, students' access to coursework they have stored in SmartSite course sites will end July 14. Students who want to save copies of their coursework in SmartSite should do so before then.