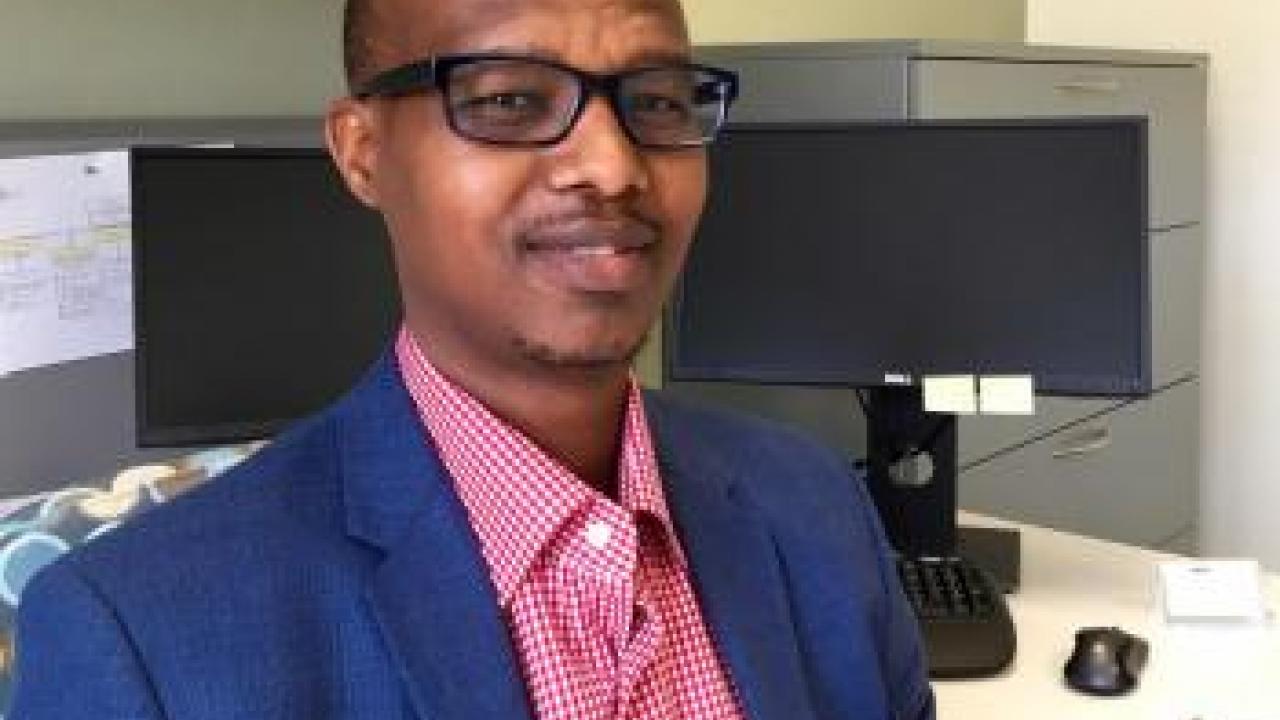 UC Davis might have a complex computing environment, but Jackson Muhirwe, the new deputy chief information security officer for the campus, comes here from a location that outdoes even our large, decentralized institution for size and variety.
For nine months, he was interim chief information security officer for the city and county of San Francisco. He served a diverse government organization of more than 55 departments that ranged from the mayor's office and airport to the police department, health department, and port.
His experience with variety and complexity promises to come in handy at UC Davis. Whatever we have here, he has probably seen it before.
Muhirwe became deputy CISO on Jan. 16. In this job he will help guide the programs of the Information Service Office forward, working alongside Chief Information Security Officer Cheryl Washington and others in the office.
Working with departments
Cybersecurity has become a critical, 24-hour responsibility. He'll help develop and maintain a security program that meets the growing needs of UC Davis, and his assignments include:
Managing a new campuswide risk-assessment program that will target nearly every department on campus.
Helping develop information security support services for Information and Educational Technology by providing greater support to areas within IET. (IET provides dozens of campus services ranging from academic and research technology, and computer labs, to email, network services, and systems administration. All need to take cybersecurity into account.)
He'll also advise Washington and Chief Information Officer Viji Murali on all matters related to cybersecurity, "particularly in ways that we can help the campus community," Washington said. "His role as manager of the new campuswide risk-assessment program will increase the visibility of the ISO and place us in a better position to help campus departments."
This is all familiar territory for Muhirwe. Before working as interim CISO for San Francisco, he was its cybersecurity program manager, responsible for building cybersecurity services for the entire city. He has taught cybersecurity at Central Washington University, and has spent more than seven years in higher education as both faculty and staff.
International experience
Born in Uganda, Muhirwe earned degrees from Makerere University in Kampala, Uganda, including a doctorate in computer science.
He became acquainted with the Sacramento area about a dozen years ago when he began conversing long-distance with a professor at California State University, Sacramento, who became his doctorate adviser. Jackson was living in Uganda at the time, and visited Sacramento.
"I liked this whole area," he says. "I said that if I were going to live in the United States, I liked California." Several years later, he and his family moved stateside.
When he was working in San Francisco and saw the deputy CISO job open at UC Davis, he saw a good fit professionally. The Davis bicycle culture is a bonus. He enjoys biking himself, and the community's love of bicycles reminds him of Groningen, the town in the Netherlands where he was a graduate student.
"This was so good to see, the number of people biking in Davis," he says.