Information & Educational Technology (IET) is committed to delivering reliable campus Wi-Fi that is critical to teaching, learning, and research activities at UC Davis. Started in 2022, Wi-Fi Refresh is a multi-year initiative that will enable fast, seamless connectivity for students, faculty, and staff as the technology needs of our campus continue to grow. 
We recognize that Wi-Fi issues can be disruptive. IET teams are working to address these issues as quickly as possible once they are reported. 
Steps IET is taking:
Boost wireless capacity: install new wireless access points and replace older hardware. These changes are underway and will continue through the summer and next academic year. 
Prioritize wireless upgrades for high-traffic high-density buildings and outdoor locations.  
Use next-generation sensors to proactively review wireless volume that can replicate your wireless experience and address issues faster and more efficiently.  
Support improvements to cellular coverage and service on campus by engaging with a variety of cellular providers.
Timeline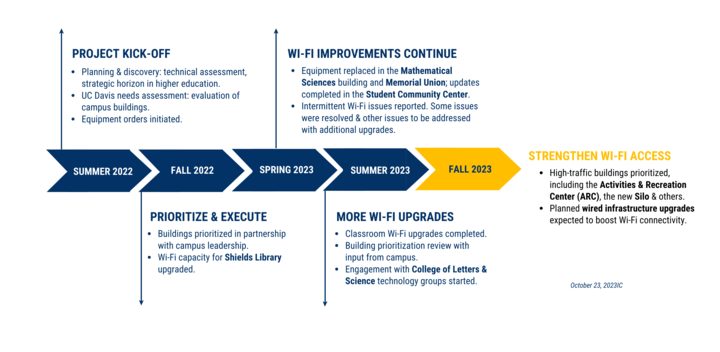 PROJECT KICK-OFF — SUMMER 2022
Planning & discovery: technical assessment, strategic horizon in higher education.
UC Davis needs assessment: evaluation of campus buildings. 
Equipment orders initiated.
PRIORITIZE & EXECUTE — FALL 2022
Buildings prioritized in partnership with campus leadership.
Wireless capacity for Shields Library upgraded.
WI-FI IMPROVEMENTS CONTINUE — SPRING 2023
Equipment replaced in the Mathematical Sciences building and Memorial Union; updates underway in the Student Community Center.
Intermittent Wi-Fi issues reported. Some issues are resolved & other issues are expected to be resolved with additional upgrades.
MORE WI-FI UPGRADES — SUMMER 2023
Classroom Wi-Fi upgrades scheduled.
Building prioritization under review with input from campus.
Engagement with College of Letters & Science technology groups planned.
STRENGTHEN WI-FI ACCESS — FALL 2023
High-traffic buildings prioritized, including the Activities & Recreation Center (ARC), the new Silo and others.
Planned wired infrastructure upgrades expcted to boost Wi-Fi connectivity.