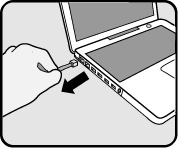 What is it? The freedom to browse the Internet while sitting at your favorite caf? or tanning yourself on the UC Davis quad. Wireless networks are sprouting up everywhere, including UC Davis.
What risks are involved? Because wireless access points don't require a user to plug into a port, the networks are often more difficult to monitor and secure. Many off campus wireless areas won't require you to sign in with a username and password. If you're buying things online or logging on to Internet applications, it's a lot easier for someone to record your keystrokes and steal your identity.
What can I do to protect myself?
Restrict your online shopping to wired connections or to encrypted web browser sessions.
Don't open programs that contain identifying information while you're on a wireless network. In fact, don't keep your social security number, driver's license number or bank account numbers anywhere on your computer, period.
Keep your computer secure by applying operating system corrective patches when they are released by the software manufacturer and keeping your anti-virus programs up to date. Other computers participating in the wireless connection could be infected or compromised and may attempt to spread virus infections or attempt to hack into peer computers attached to the wireless network.
Disable file sharing so that others can't help themselves to files on your computer.
What is UC Davis doing to protect me?
The UC Davis wireless network fends off rogue surfers by requiring a login by all users .If you don't log in with a UC Davis username and password, you don't get access.
UC Davis implements filters between the campus wireless network and the rest of the campus computing network to limit some of the more malicious attacks from emanating to or from the th e wireless network.
UC Davis has a Wireless resources web page that will inform you about its policies and educate you before you decide to unplug. Visit http://wireless.ucdavis.edu.