The UC Davis Health System has won a 2009 golden Larry L. Sautter award for Innovation in Information Technology, thanks to its work completing a key phase of the system's transition from paper to electronic medical records.
The Sautter winners were announced Tuesday morning at UCCSC2009-Focus on Security, which this year combines the annual University of California Computing Services Conference with UC Davis' every-other-year Security Symposium. The sold-out, two-day conference ended Wednesday.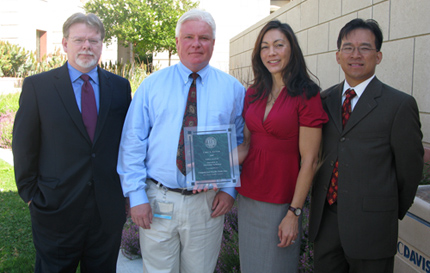 Mike Minear, John Cook, Jennifer Burger and Hien Nguyen with their Sautter award
The Health System was honored for its Computerized Provider Order Entry project led by John Cook and Jennifer Burger, program and project managers respectively for Clinical Information Systems. The group developed a complex electronic clinical orders system that physicians use to write orders for anything from medications and diagnostic tests to medical procedures and hospital discharges. Dozens of physicians and other Health System staff provided input and advice.
The award presentation also cited Mike Minear, chief information officer for the Health System; and Hien Nguyen, co-director of Biomedical Informatics, assistant professor in Internal Medicine, and medical director of electronic medical records.
This year's Sautter competition awarded three golden awards, two silver awards, and four honorable mentions. Three of the latter had Davis connections:
Other awards were presented to UC Los Angeles (golden), UC Berkeley (golden), UC Riverside (silver and honorable mention), and the UC Office of the President (silver). UC Davis won the most honors overall. Find a list of all winners here.
UC Davis recipients have previously won golden awards in 2007, 2005 and 2003.
The UC Information Technology Leadership Council presents up to three golden, two silver, and five honorable mention awards each year to faculty and staff at any UC campus, UC medical center, the Office of the President, or the Lawrence Berkeley National Laboratory. The prizes recognize information technology innovations that can improve UC administrative or academic processes.
This year's members of the award selection committee were Jim Davis, UCLA; Rich Kogut, UC Merced; Tom Putnam, UC Santa Barbara; and Jon Showstack, UC San Francisco.
The award's name honors Larry L. Sautter, an associate vice chancellor for computing and communications at UC Riverside who died in 1999. He is remembered as an energetic and accomplished technologist.