Academic Technology Services' digital images and photography service has a new angle: the discerning eye of TJ Ushing.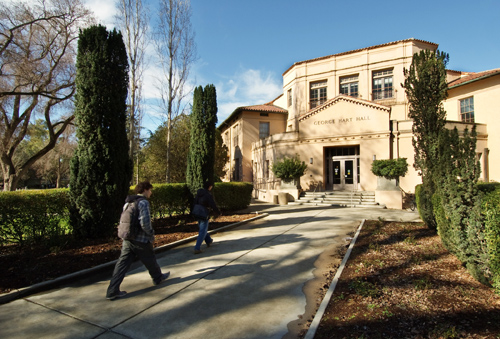 Hart Hall, as photographed by TJ Ushing
Academic Technology Services (ATS), part of Information and Educational Technology, hired Thomas "TJ" Ushing as a full-time multimedia production specialist in November. He shoots portraits, group photos, and events; he digitizes images, scans slides, and touches up images. Ushing can also produce videos, design online content, and will be trained to assist with other media.
He has earned good reviews for his work.
"I found TJ to be very courteous, prompt and professional. He seemed to appreciate that I was looking to have a shot done for a feature article that was being run about my research program, so [his approach] made it all very smooth and seamless," said Russ Hovey, a professor of animal science who asked Ushing to take his portrait in his lab for a Department of Defense breast-cancer research publication.
"He has a really good eye for placing groups, and shooting things at different angles," said Ushing's supervisor, Steve Oerding.
Ushing, 25, graduated from California State University Sacramento in 2007. Originally a graphic design major, he realized photography's potential when he took a required photography course. "I very much enjoyed [the class] and the artistic aspects of it," he said. He then dove into the craft, looking for all the experience he could get. This job was a logical next step.
For now, TJ will focus his expertise on creative aspects of photography. Although all of the campus work Ushing does is digital, he has studied and enjoys both digital and film photography. "Film is going to be more for nostalgia, and more prominent in the art community," he said, "but it won't die completely."
ATS would like to let our readers know that as of last fall, the photography services on campus became a self-supporting unit as a result of the budget cuts. ATS is also no longer able to provide the microscopic and other highly specialized photography that we have had in the past. Contact ATS to book photographic or other media services at ats@ucdavis.edu or (530) 752-2133.