Anthropology Junior Olivia recalls her days as a high school senior. She remembers waiting anxiously to view her application status, and the million worried thoughts that crowded her mind.What if UC Davis never received my test scores? I've' changed my email address, how will they contact me? What if they have an incorrect address for me; will I ever find out if I've' been admitted?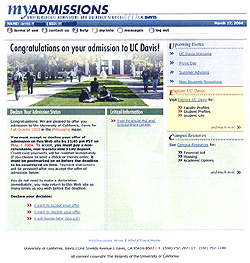 Such fears are common for applicants, especially since there has never been a way to verify their personal information before admission. Until now.
Early this year, the campus launched MyAdmissions, a Web site that allows student applicants to accept their admission to UC Davis online by digitizing their personal info and every legal form that they will have to submit upon accepting admission. In past years, these forms were sent to new students in a folder with an acceptance letter.
The MyAdmissions site follows a general University of California online trend. The Office of the President announced last September that beginning with the entering class of 2005, paper applications will be mostly discontinued in favor of digital applications. MyAdmissions is one of the first UC Web sites to gather all undergraduate pre-enrollment transactions together online. It marks what project manager Tom Hinds declared a "true collaborative effort" of over half a dozen UC Davis departments.
Walking the Applicant Through the Process
MyAdmissions was designed to complement
WhyUCDavis
, a pre-application site that provides prospective students with faculty and student profiles and as well as other features designed to exhibit the campus? selling-points.
Shortly after an applicant has applied for admission to UC Davis using the UCO P Pathways site, she can log on to MyAdmissions to verify that her personal info record is up to date and all her application materials (e.g., test scores, essays, forms) have been received on time. She also may receive general messages from the campus through the messaging system, which is built on the messaging system technology in my.ucdavis.edu. The message posting is an important feature since it provides a more reliable form of communications than sending email to a prospective student's non-UCD email account, a process in which messages can get lost due to faulty spam-filters, overflowing accounts, or address changes.
If the applicant is accepted to UC Davis, a print notification is mailed to her home, along with a posting of her status on her MyAdmissions account. Once she hears the good news, she can accept or decline admission by electronically submitting her Statement of Intent to Register (SIR) via MyAdmissions. In the SIR form, the student agrees to a customized set of admissions conditions before using the secure Kerberos-supported system to pay her deposit online or by mail. Next, the system walks her through a step-by-step process in creating a Kerberos login and campus email account. When she finishes, she will discover the list of "Required Tasks," a Web page featuring links to all of the forms that enrolling students must submit. This list, which is organized by deadline, is completely customized by the students? major and status (i.e., freshman, transfer, or international student).
"I enjoy being able to log into my own special student site," admits Leoncio-John "Leejay" Abucayan, an incoming freshman and the third student to submit his SIR online this past March.
The "Required Tasks," which include Summer Advising registration, the student housing application, financial aid notices and many more forms, required many UC Davis department to unite their efforts.
Behind the Scenes

Since the application and matriculation process involves so many units on campus, a number of UC Davis groups had to unite efforts to pull off MyAdmissions. Tom Hinds of the Undergraduate Admissions and Outreach Services (UAOS) and Michael Buck of Information and Education Technology (IET) served as Project Manager and Technical Project Manager, respectively, with Vijay Mudumbe of UAOS doing the majority of the coding, but many other departments were involved including Financial Aid, Advising Services, Student Housing, the Office of the Registrar, and the Health Center.
The project began in September with a tight December deadline. "It was analogous to building a house for a very large family," states Ray Reveles, Director of the Application Development and Data Administration unit of IET, commenting on the number of factors and features that had to be accommodated by the development team.
One of the biggest challenges for IET was creating instant verification of applicants? information. In the past, it could take up to a day for Summer Advising to register applicant information and activate email accounts. IET made the process instantaneous by pre-programming the information of all 29,000 accepted applicants into the system. Once a student submits a positive SIR electronically, her information is moved to the computing accounts database. As for the students who send a negative SIR, their information remains in the system until a few weeks after fall quarter begins. New students have access to MyAdmissions for two academic quarters, although most students will have completed their transactions by the time they begin attending UC Davis.
Other UC Davis professional schools and programs, such as the Law School and Graduate Studies, are requesting similar admissions systems. The highly economical and environmentally friendly system greatly simplifies the process for every department involved, while also representing UC Davis as an innovative instit ution.
"Everyone came out a winner," says Michael Buck. "Especially the students."