By Bill Buchanan
It has looked like a paradox. IT Times, a newsletter about UC Davis information technology, has been distributed mostly on ... paper.
Maybe distributing its content by social media would be too exotic, but a publication that carries news about online course-management systems, wireless networks, email, and computer rooms feels like it should have cut its ties to print sometime around, oh, 2000.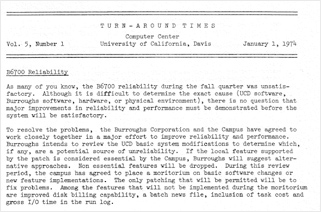 The Turn-Around Times edition of Jan. 1, 1974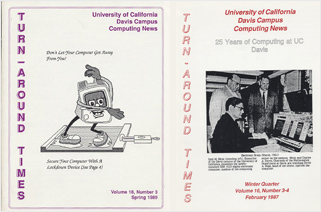 Turn-Around Times editions from the '80s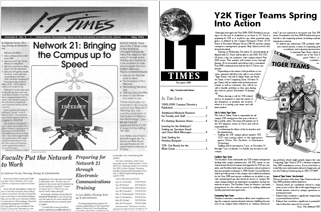 IT Times editions from the '90s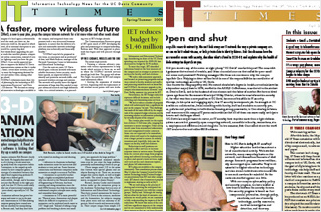 IT Times editions from the '00s
It didn't. The final print edition of the IT Times went out by campus mail in October 2008. Editions in 2009 will be designed and distributed as electronic PDFs, which readers can print if they wish. The switch saves paper, and cuts costs when money is tight.
But don't overlook the main goal of the IT Times--the main reason it stuck with print. Information and Educational Technology produces the IT Times for people who use technology, not only for technologists. Put another way, it's written for drivers, not only for mechanics and enthusiasts. Print was still a good way to reach that audience for most of this decade.
Also, in 2003 IET started TechNews online to distribute information that couldn't wait for the next IT Times. TechNews' content includes every story in the newsletter. The result created an online resource for campus tech news, and further blunted the need to turn the IT Times electronic.
Online reading has become as ordinary as traffic on I-80, so an electronically distributed IT Times should not feel strange in 2009 to anyone on campus. Down the road, IET might merge the PDF IT Times into TechNews. It depends on whether enough people use the PDF version.
Change is routine for the newsletter, which has altered its frequency, purpose, appearance and name since it began as the Turn-Around Times on Oct. 14, 1968.
The Turn-Around Times was produced by what was then the Computer Center as a technical publication. Forty years ago, IT was a specialty for a relative few, not a platform for the entire campus. (The newsletter's title is a clue. It apparently played off the common question of how long it would take to "turn-around" a batch job on the mainframe computer.)
The need for a publication to help demystify, explain and promote campus technology to all of UC Davis wouldn't lead to the newsletter's re-creation as the IT Times until 1992.
Some parts of technology don't change, of course, such as the lure of an int eractive screen. Here's a comment from the April 1974 issue about "the latest fad in the Computer Graphics Teaching Laboratory," a game called KING, where players pretended to manage a small kingdom. It demonstrated interactive computing.
"The game seems to obsess people," the notice said. "Some persons have reportedly played as long as 5 hours at a single stretch."
Five hours! Who could imagine? But if you were alive then, you'll remember: Sitting at a computer screen for most of a day was unusual.
In 1974, the subjects in the Turn-Around Times included primitive role-playing games, Fortran programming classes, and disk storage charges. Today, IT Times and TechNews write about SmartSite, streaming video, and cyber-safety. Tomorrow IET's publications will carry different news, because the flow of new ideas, services, practices, insights, tools, all of that, isn't done.
This campus keeps growing, striving and changing, and IT assists the growth. If a piece of informational technology helps teaching, work, research or studies at UC Davis, it's still a fit subject for the Turn-Around Times/IT Times/TechNews ... probably in whatever format this campus will find useful in the decades yet to come.
Bill Buchanan has edited the IT Times since the spring of 2006. He also writes for and edits TechNews, and is a senior writer and editor in IET's Communications group.