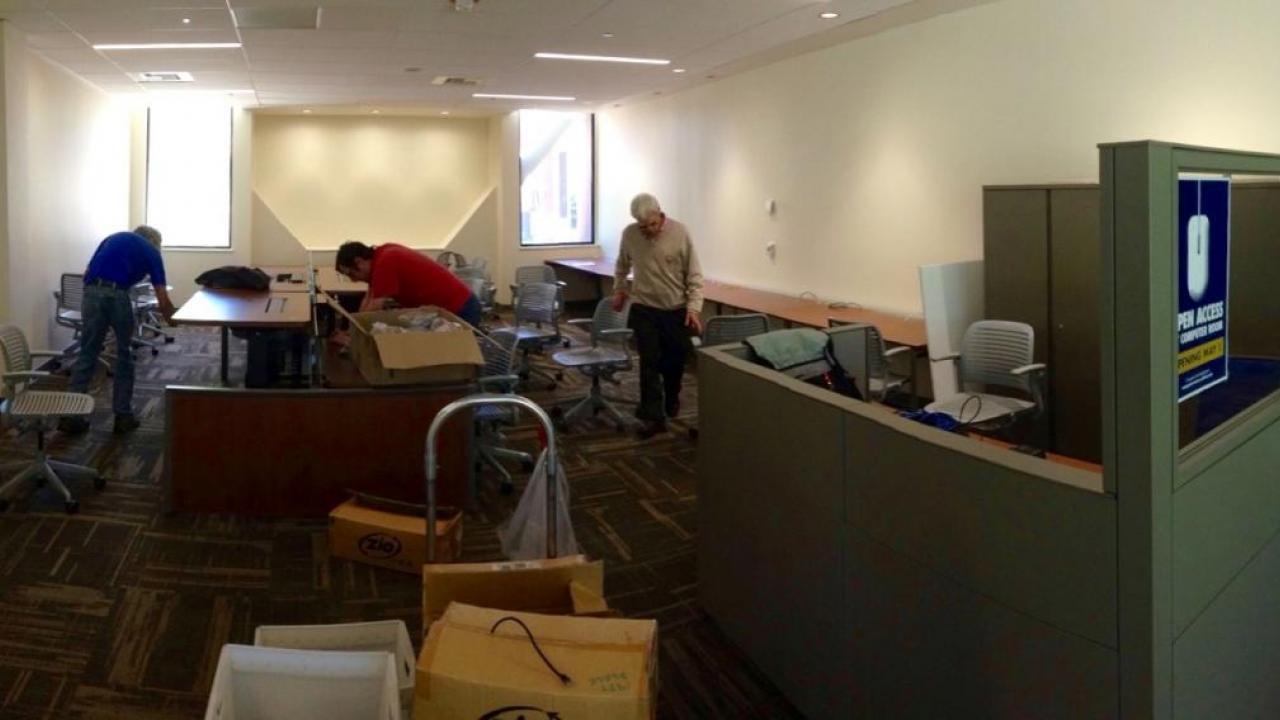 Now that its renovations are nearly complete, the Memorial Union will soon be home to an open-access computer lab for the first time in two years. Anyone connected to UC Davis can use it.
The lab is scheduled to open May 1 in 246 MU. It will be open 8 a.m. to 5 p.m. on weekdays, then expand its hours starting this fall. The room will have 22 computers, including seven Macs and six stand-up stations, plus both B&W and color printers.
Crews were preparing the room on April 20 (see photo).
The MU's previous computer lab was moved to 102 Wellman Hall in 2015 when the MU renovation project began. That location will remain open, which means the inventory of computer rooms on campus is increasing by one.
Counting the new location, Information and Educational Technology operates 21 computer rooms, including 14 computer classrooms and seven open-access labs, with a total of 644 workstations. It also manages eight departmental computer rooms with 225 installed stations for the School of Education, the UC Davis Language Center, and The Arts Admin Group.
Used by 25,600 students
Use of the rooms continues to increase, driven by growth in student enrollment and "faculty members integrating more computer-centric methods into their classroom teaching," says Computer Lab Management's fall 2016 quarterly report.
The computer classrooms were used for a record 6,271 hours of instruction in fall 2016, up 62 percent from just 3,860 hours five years earlier. Almost all undergraduates used an open-access lab at least once—CLM counted 25,617 unique student logins to the labs during 2015-16.
For more about the rooms, including locations, hours, software, printing and current availability, see the IET Computer Rooms website.