The debut meeting of the Faculty Users of SmartSite offered a mix of news and practical discussions.
The news included details about the new group--which was formed to support faculty use of SmartSite--a summary of recent changes to SmartSite, and information about a related new blog, The Wheel, that will start in November.
The practical was typified by a question about how to get rid of the dialog box that pops up in Gradebook2 when an instructor has more than 25 students. (Answer: Press "enter." Follow-up comment: But that's confusing, because most users look for an "x." Response from programmer: We can work on that, and thank you for the feedback. It helps.)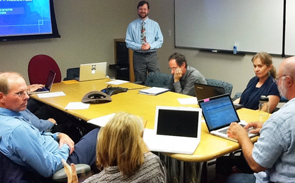 Some of the people present for the first meeting (clockwise, from top center): Andy Jones, Paul Salitsky, Brenda Rinard, Fernando Socorro, Antonella Bassi and Dave Burger.
All in all, the Oct. 7 meeting was a good start, said host Andy Jones, academic associate director of Academic Technology Services (ATS) for Information and Educational Technology (IET). Jones, also a continuing lecturer in the University Writing Program, is expanding connections between IET and faculty concerning SmartSite and other ATS services. He formed the faculty users' group to help meet that goal.
The Wheel will discuss issues raised in these meetings, as well as new technological tools, and unusual uses of those tools. The blog will mention resources available at ATS and UC Davis, Jones said, "with th e intent to humanize those resources."
The minutes of the first meeting capture more information about how the group will work; a discussion of clickers; other ways for faculty to be heard; and a request to invite other faculty to attend these meetings.
Faculty Users of SmartSite meets the first Friday of each month from 2 to 3 p.m. in the large conference room at 1310 Surge III. They meet again Nov. 4. No RSVP is needed, although Jones invites interested faculty to contact him at aojones@ucdavis.edu.