If you have noticed better cell phone coverage on campus recently, there's a reason--three new cell sites have boosted reception.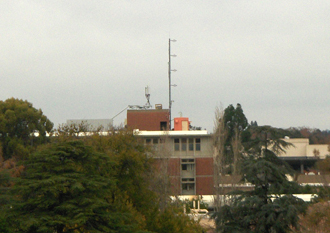 This view, from Chemistry Annex, shows the T-Mobile cell site
    atop Kerr Hall
As of the end of January, the four main service providers all have active cell sites on campus: AT&T on top of Hutchison Hall, T-Mobile atop Kerr Hall, Sprint on Chemistry Annex, and Verizon next to the North Entry Garage. Together, they should bring the campus $1.15 million over 10 years through licensing fees.
Suphain Htaung, a sociology major who uses Sprint and graduated in winter 2008, noticed a difference toward the end of her term here. "My phone, as well as my peers' phones, was working well," she said. "I did not encounter any problems receiving text messages or calling people, even in the basement of Olson!"
A year ago, she said, she could not find service anywhere in Olson.
The AT&T and T-Mobile sites were completed in December and January, while Sprint finished its site last fall and turned it up in January. Verizon's site was finished one year ago. All use high-capacity T-1 land lines rather than large, sight-blocking microwave dishes. The work fulfills promises made a year ago that 2008 would see improvements in campus cell phone coverage.
T-Mobile has proposed two additional sites. Although it has submitted no dates or detailed plans, T-Mobile could eventually have three sites on campus to maximize coverage, said Zack O'Donnell, service center manager for Communications Resources, the telecom department of Information and Educational Technology.
The service providers each signed a 10-year contract, with an option to extend for five years. The $1.15 million will go to the campus data network, which has urgent upgrades in the works, O'Donnell said.
The carriers will test and monitor their cell sites over the next few months to assure they are properly engineered. Verizon, T-Mobile and AT&T, which have seen large surges of activity, are already looking at adding capacity.
The cell sites should solve most of the outdoor coverage problems, but indoor coverage will remain an issue for some carriers. The campus is still considering "vendor neutral" systems to boost indoor signals. These systems are in the planning stages, and struggling for funding due to the current budget problems, said O'Donnell.
Two cell towers west of Highway 113 already provided some coverage for AT&T, Verizon, and T-Mobile customers on campus. The towers will continue to serve most western parts of the campus.