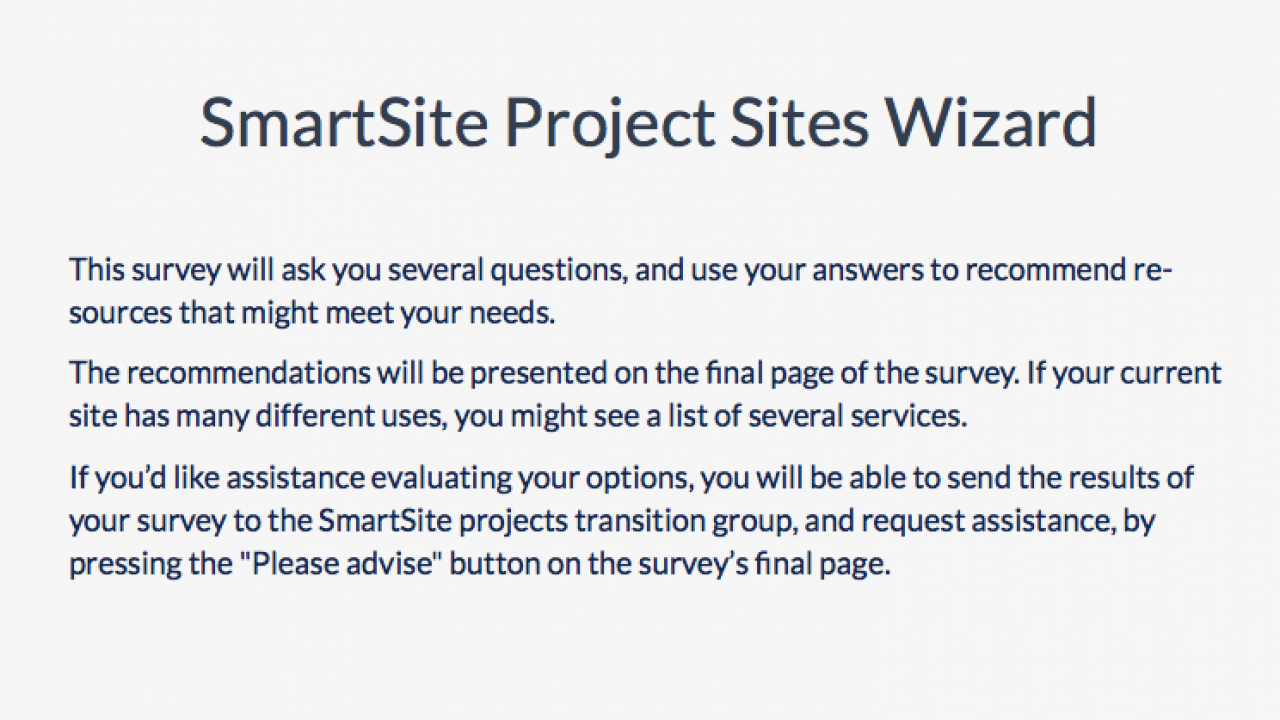 If you own a project site in SmartSite and need ideas for replacing it now that SmartSite is ending, check out the new survey tool at smartsiteprojects.ucdavis.edu. It suggests alternatives based on what you want to accomplish.
Many of the alternatives are collaboration services that didn't exist when SmartSite debuted in 2006, and are a better fit for certain purposes than SmartSite is.
The survey asks about your campus role (faculty, student, staff), the kinds of data you use, and what you want to do with your new site. It uses your answers to recommend options. You'll usually get at least one suggestion.
If you're mostly sharing documents, then the tool will likely suggest Box.com. If you need a tool for scheduling, then it might propose the calendar in Office 365. If you help run a student organization, you'll be directed to consider OrgSync. (Accounts for Box and Office 365 are available at no charge to UC Davis faculty, students and staff.)
Complex uses of SmartSite might require additional analysis to identify a good replacement. You can also send your results to the project sites transition team for their evaluation.
Deadlines and guidelines
Whatever you decide, you should copy whatever data you want to keep in your current SmartSite project site, and find your new service, by December 2017. SmartSite's support for project sites will end during the 2017-18 academic year, possibly as soon as December.
Your site will not be discontinued without advance notice. Still, December is not far away.
As you choose a new service, think about the laws, regulations and UC policy that govern data storage. They have probably changed since you created your project site. For example, you should not store medical or health information on a Box site, but you can keep student education records there. The data sensitivity guide from the Information Security Office can help direct you, and has contact information if you need a more detailed answer.
Fewer than 900 active sites
SmartSite's main use was instructional, but students, staff and faculty have also created more than 10,000 project sites since 2006 for a variety of uses. As of summer 2017, about 900 SmartSite project sites still see at least minimal activity each month.
UC Davis stopped using SmartSite for instruction in June 2017, replacing it with UC Davis Canvas. Canvas is a more purely instructional system than SmartSite was, which is why most project sites in SmartSite shouldn't be moved to UC Davis Canvas.
Information and Educational Technology has assembled a project sites transition group to help SmartSite project site owners find replacement services. The team includes experts who have been working on the Move to Canvas project since 2015. To send them questions or ask advice, please use this contact form.