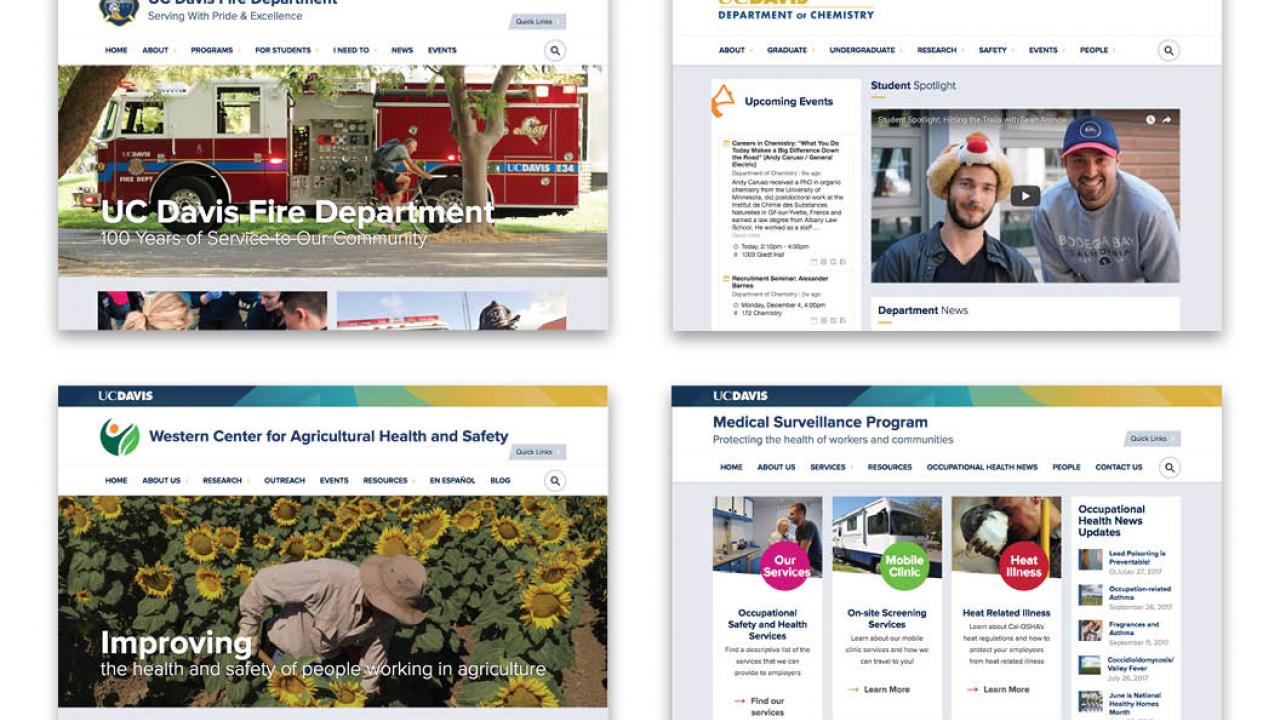 UC Davis website managers and communicators should be interested in this news: The campus will retire Cascade as a content management system, and cPanel as a place to host websites, in late 2018.
The change comes as more campus units opt to build and manage sites with SiteFarm, a more modern UC Davis web publishing platform, instead of Cascade. SiteFarm is a central service available at no cost to campus units, and includes website hosting.
Web content management systems store and organize articles, images, videos and other content, as well as the way that content is used and presented.
UC Davis adopted Cascade in 2009 to support a more consistent look among UC Davis websites, and to make it easier for non-technologists to update pages. SiteFarm has the same goal, but is much simpler to use.
SiteFarm, fully available since April 2017, is now used by more than 250 sites, including (see illustration) the Fire Department, Department of Chemistry, Western Center for Agricultural Health and Safety, and Medical Surveillance Program.
The end of Cascade does not affect the WordPress faculty website service offered by Academic Technology Services. ATS will continue to offer that service.
Mentioned by the Chancellor
Using SiteFarm can also help units comply with guidance from Chancellor Gary May, stated in a memo on Oct. 31, that "direct[s] all UC Davis units to have clear and approved UC Davis signage/branding on buildings, in print materials, and online."
The memo does not require use of SiteFarm, but does say it can help campus websites look like they're part of UC Davis. "[SiteFarm] will make all sites current and fall within the standards of the campus home site," the memo says. "It's easy to maintain content on SiteFarm."
The campus has stopped accepting new customers for Cascade, and will do the same for cPanel starting Jan. 31, 2018. Cascade will then be retired on Oct. 1, 2018, followed by cPanel in December 2018.
The campus originally offered cPanel to support Cascade, although non-Cascade accounts also use cPanel. Owners of websites that still use Cascade and/or cPanel can explore options or learn more at sitefarm.ucdavis.edu.