By Phil Riley
As undergraduates, David Silvia, Jillian Ng, and Christina Blake know that students have plenty of ideas and opinions about SmartSite, the online course-management system at UC Davis. They also believe the use of SmartSite can improve if that student feedback gets to the right people. The trick is to gather this perspective and express it to faculty.
Two projects this summer by the three ET Partners students sought to do just that, by talking with departments on campus and by surveying students on how they use SmartSite.
A three-minute pitch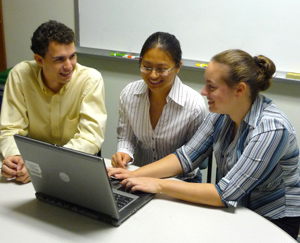 Students David Silvia, Jillian Ng, and Christina Blake would
    like more faculty to use SmartSite
Silvia, Ng and Blake are members of the ET Partners (ET stands for Educational Technology), a group of technologically adept students who provide faculty with computing assistance. This past summer they visited various faculty advisers to make a three-minute presentation to talk up SmartSite and to propose SmartSite training tailored to their departments.
Departments were offered a customized session by SmartSite trainers Steve Faith and Fernando Socorro or the students themselves, plus information about other training resources offered by the Academic Technology Services branch of Information and Educational Technology. The idea was to involve the departments in SmartSite, and to help them learn what students thought about the system.
The stud ents decided to pursue the outreach after brainstorming ideas on how to raise awareness of SmartSite among faculty who don't use it, or who don't take advantage of existing training. SmartSite began as a pilot program in early 2006, and became the main campus online course-management system in the fall of 2007. Its tools are replacing the course-management tools offered through the MyUCDavis Web portal; those tools will eventually be retired.
The students' brief presentations worked, Faith said. The students went to about 15 departments, and Blake said most were warm to the idea of tailored training. "All departments wanted more info, but there were different levels of interest," she added.
Silvia said most departments liked the no-pressure proposal and the opportunity to think about future training. The response improved when departments publicized the students' visit in advance, allowing professors to drop in with questions.
The students also found that while many faculty see SmartSite simply as a tool they must learn, many staffers in the departments see the system as a potential benefit for how they work.
The ET Partners students plan to follow up with their department contacts down the road.
Results and advice
The brief survey asked students how they use SmartSite. The three students used Facebook and instant messaging to publicize the surveys, which were conducted on Surveygizmo.com. Most students use these programs to communicate with friends, Silvia said, so using these tools for publicity increased the odds of attracting student attention.
Fifty-one students took the survey, which Silvia, Ng and Blake considered good for a slow time of year. The questions focused on how professors used SmartSite, what tools students used, and whether students used SmartSite outside of class. The results:
--98 percent of the students had used SmartSite, most in one to three classes.
--Most need instructions to use SmartSite.
--The tools students found most useful were forums, assignments, chat room, and Gradebook, in that order.
--Most did not use all tools on the site, and in fact found tools that were not used confusing. Some professors deleted unused tools so as not to confuse the class or complicate their use of SmartSite.
--Very few students used SmartSite outside of class for clubs or organizations.
The ET Partners students compiled their results into a PowerPoint to present to departments. So far they have shown it to the College of Biological Sciences, and intend to present the results to more departments.
In their presentation, the students urged professors to:
--go through SmartSite with their students on the first day of class.
--give instructions and set expectations for the tools they will use.
--turn off the tools they won't use.
The students followed up with a question-and-answer session. Faith and Socorro held a special training session for the department the next day.
To contact the students, email etpartners@ucdavis.edu or call Academic Technology Services at (530) 752-2133. For more on SmartSite training sessions by Faith and Socorro, visit smartsite.ucdavis.edu or contact them through IT Express, the Campus Computing Services Help Desk, at (530) 754-HELP (4357).
Student writer Phil Riley is majoring in sociology and communication.