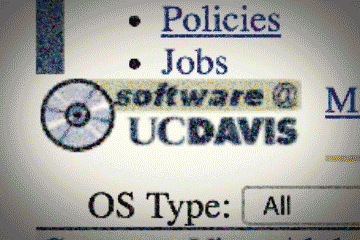 Information and Educational Technology has created a new software catalog that makes it easier for students, staff, and faculty to obtain software available through campus agreements. The catalog also represents the next step forward in providing improved customer service from IET.
The Software and Service Catalog, managed by Software Licensing in IET, replaces an outdated, limited software website created in the early 2000s. You can find the new catalog at the existing URL, software.ucdavis.edu, or through the Service Hub.
 "The new catalog is the next step in our service management evolution," said Anita Nichols, director of Client Success for IET. "It moves us toward our goal of delivering an enhanced customer experience."
The catalog includes product details, who is eligible to order different software, plus contract terms and pricing.
Benefits
One of the new features: Campus affiliates can order and track their software purchases in the My Stuff section of the Service Hub (see explanation). My Stuff is a personalized section where customers can open a help ticket, track existing tickets, or perform other functions.
 The Software and Service Catalog also offers:
Advanced filtering, which lets users organize the catalog view to suit their needs

Comprehensive product information

Integration with the Knowledge Base

Better search functions

An easier purchasing process 

An accessible, secure environment
If you have questions, please search for software-related articles in the Knowledge Base, email software@ucdavis.edu, or explore the new catalog.