Feb. 19 update: Schedule of drop-in sessions is posted here.
As you likely know by now, UC Davis expects all faculty, staff, and student employees to enroll in Duo multi-factor authentication. Adopting Duo will improve the security of privacy and information—UC Davis', as well as yours.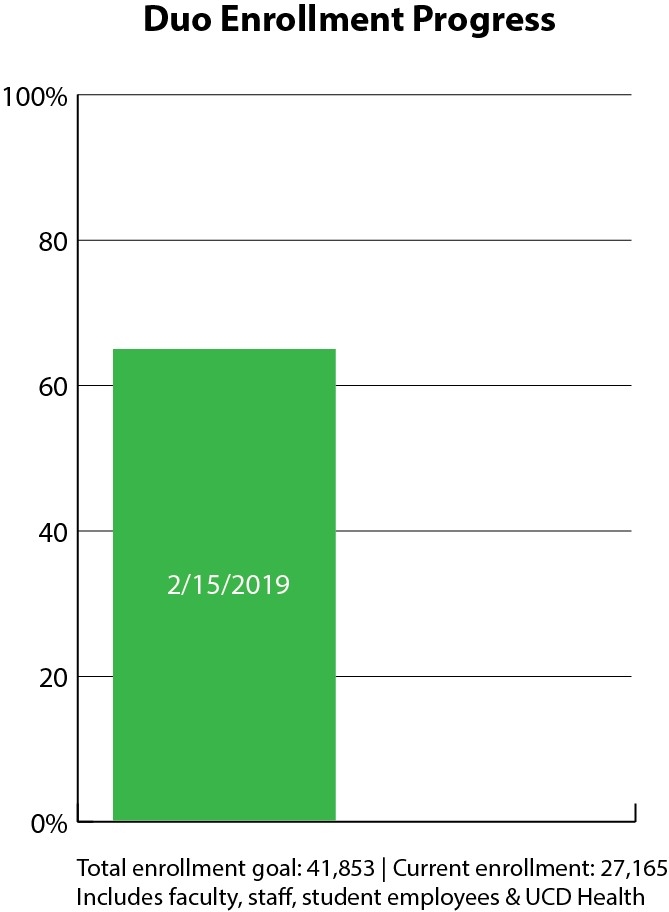 For a reminder about how Duo works, jump to the end of this article. Meanwhile, here are updates about the progress at UC Davis:
As of the morning of Friday, Feb. 15, 65 percent of UC Davis faculty, staff, and student employees have enrolled.
Drop-in sessions where you can get help signing up for Duo will occur during the week of Feb. 25 to March 1. Times and locations will be announced in TechNews, the IT Express Facebook page, aggiefeed, and posted on movetoduo.ucdavis.edu.
Tokens are now available, either through the UC Davis Stores or (in bulk) via AggieBuy.

See this Knowledge Base article for information about using and buying tokens that the campus has approved for use here.
Several departments and units have held drop-in enrollment sessions, and more are likely. If you are helping your unit or department to enroll in Duo and would like Information and Educational Technology to send a consultant to a session for your area, contact the Duo project team through ithelp@ucdavis.edu.
To sign up or get help
To enroll on your own, follow these simplified instructions.
If you have questions, talk to your department or unit's tech support, or contact the IT Express Service Desk (open 7 a.m.-6 p.m. weekdays). An IT Express consultant can walk you through the process.
If you work for UC Davis Health, contact its Technology Operations Center at (916) 734-4357.
How Duo works
Duo asks you to enter two "factors" when you log in to an account it protects: your usual passphrase, plus a second factor—typically a temporary code that Duo sends to your smartphone. Accept the code, and you're in. Hackers who don't have the second factor cannot get into your account.
If you don't have a smartphone, you can use tokens or a landline phone to receive the code. Your department or unit might provide a token for you.
MFA is becoming a standard practice throughout the University of California. Once you enroll at UC Davis, you'll need Duo to access certain services protected by CAS (the campus Central Authentication Service), such as myucdavis and the Time Reporting System. It will also be required by UCPath. Learn more at movetoduo.ucdav.edu.