Innovative and Collaborative: 3D-Printed Solution Enhances Classroom Accessibility
In many classrooms, instructors use touchscreen tablets to operate overhead projectors. It's part of a host of technology offered to instructors to enhance lessons at UC Davis. But while setting up for a history class this summer, UC Davis alum and guest instructor, Seth Clark quickly realized he was going to have difficulty using the touchscreens due to his sight impairment.
"When I touched it, there was nothing on the tablet to indicate where the buttons were," Clark said. "It made it impossible for me to turn on the projector."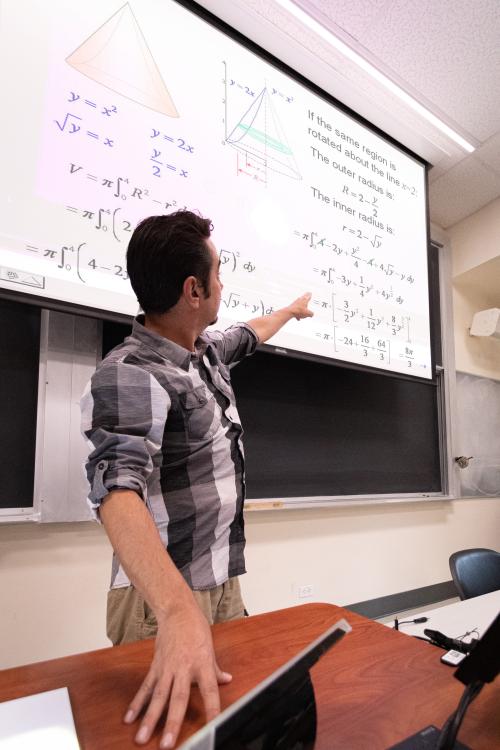 He quickly reached out to Joshua Hori, an accessible technology coordinator in Academic Technology Services (ATS) to find a solution. Hori had helped Clark overcome accessibility issues when he was a Ph.D. student at UC Davis. 
"The issue was with pressing the correct button," Hori said. "Because Mr. Clark couldn't see the screen and it was flat, he had difficulty identifying where to press without accidentally tapping extra buttons."
Hori went to work on a customized design, soon realizing it was a unique opportunity to innovate and collaborate with the UC Davis Biomedical Engineering TEAM Lab.
It takes a TEAM effort
Typically, when addressing accessibility issues, it's all about removing a barrier. But in Clark's case, Hori realized a barrier – one made of plastic – was exactly what he needed.
"I came up with the idea of a 3D-printed overlay that would go on top of the tablet with holes over the correct buttons so that Mr. Clark wouldn't accidentally tap the wrong ones," he said. "The problem was that I didn't have a 3D printer and I had limited knowledge of how to create the correct design file in order to print what I needed."
Campus collaboration
A quick internet search for 3D printers on campus led Hori right to UC Davis's Biomedical Engineering TEAM Lab.
The lab, located in the Genome and Biomedical Sciences Facility, features dozens of state-of-the-art 3D printers, from polyjet to fused deposition model technologies. As a service-based facility, it often creates equipment for biomedical engineers and sometimes anatomical models for surgical planning. It even played a role in UC Davis Medical Center's groundbreaking surgery to separate conjoined twins.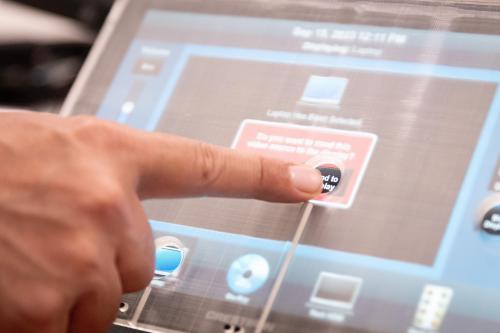 What many may not know is that anyone, including the public, can request their design and fabrication services, which the TEAM lab offers at cost. So, when Hori contacted the lab's manager and development engineer, Steven Lucero, it was a welcome challenge. The pair collaborated quickly and effectively on a design. It took just three days to create the first 3D-printed prototype and another two to finalize and install it in Clark's classroom.
The 3D-printed overlay features four holes that correspond to the exact touchscreen buttons. It also includes tactile dots to indicate the order in which the touchscreen buttons need to be pushed, ensuring the projector is turned on correctly and ready to display the day's lesson.
"It was very satisfying to take the overlay, put it on the tablet, and have it work the first time," Lucero said. "Typically, there is a lot of finetuning that needs to be involved. It just shows that something doesn't need to be overly complicated to be effective."
Most importantly, the combined effort of Lucero and Hori addressed Clark's accessibility issue.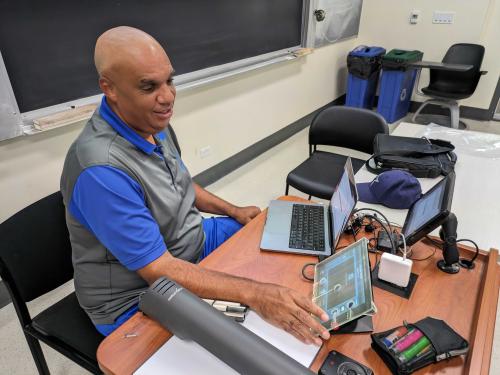 "It worked really well," Clark said. "As a blind professor, having the ability to independently control the tech in my classroom is always important."

A simple device, big impacts 
While the first overlay was a success, it won't be the last. Hori and Lucero are already looking at ways to improve the design and expand its use. 
"We're looking at adding haptics and audio feedback to improve the experience for those who are blind or low vision, but I think this could also be really helpful to those who are maybe less tech-savvy," Hori said.
As for making the 3D-printed overlay widely available in classrooms, that's still under consideration, but Hori says he hopes it will become a reality soon.
Hori also believes that the TEAM Lab collaboration could be the start of larger efforts to increase accessibility on UC Davis's campus through engineering.
"[The overlay project] just goes to show there are so many things that we can do with 3D printing," he said. "We're just scratching the surface."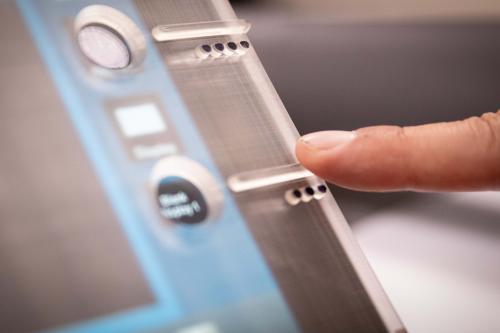 Finding innovative solutions
In the meantime, those who need accessibility accommodations may visit Accessibilitiy.ucdavis.edu to learn about UC Davis policies and to make requests.
The UC Davis Biomedical Engineering Team Lab accepts projects through their website, team.ucdavis.edu. Rates vary based on the time and scope of each project. The team is small right now but will expand with a new 10,000-square-foot space in Aggie Square, currently under construction across from UC Davis Health on Stockton Boulevard and slated to open in early 2025.