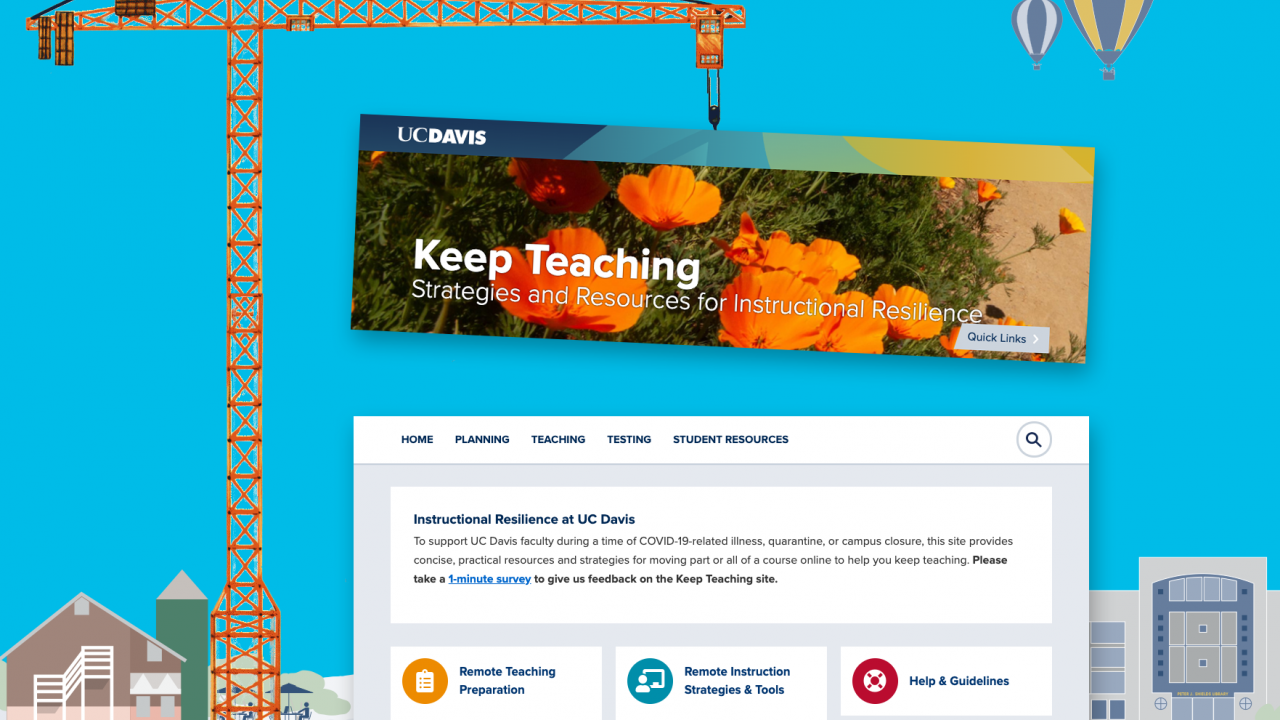 The UC Davis Keep Teaching website, a collection of ideas and resources that emerged almost overnight last March to help faculty and TAs shift quickly to remote instruction, now offers a clearer path through its offerings.
On July 2, the site released a major update to the site's Teaching section to make key resources easier to find, feature peer-to-peer comments from faculty, and present seven pedagogical topics that instructors should consider as they teach remotely.
The update follows thoughtful consideration of how Keep Teaching could best help the campus this summer and fall. The revisions draw on feedback, especially from faculty, and the experiences of spring quarter.
'Not just what can I do, but how?'
"We wanted to create more of a path through the site," said Dr. Margaret Merrill, an instructional designer and educational technologist with Information and Educational Technology (IET). "Not just what can I do [as an instructor], but how do I do it?"
"This helps faculty go back to what they created in the last quarter and create a more intentional class design," said Dr. Patricia Turner, an educational specialist with the Center for Educational Effectiveness (CEE). Dr. Turner and Dr. Merrill reshaped and added to the original Teaching section, incorporating previous work from CEE and IET contributors. CEE Associate Director Dr. Kem Saichaie and communications specialist Ahna Heller of IET also helped remake the section.
The Keep Teaching site has been updated almost daily since March to add resources, refresh information, and adjust the structure of its pages even as Keep Teaching rapidly expanded. Work on the revised Teaching section began in late April. Keep Teaching has attracted more than 120,000 visits so far.
The additions: Organize, include, reflect, and more
The first of the seven pedagogical topics is "Organize your course for remote instruction." Like the other six topics, it presents broad recommendations and strategies, plus technology that supports the strategies.
In "Organize," for example, you see five strategies to "plan or revise your course organization," with paragraphs on such topics as identifying your needs and priorities for remote teaching, and on considering your class size, students' backgrounds, and their access to technology. The rest of the section offers ideas on organizing courses on Canvas, Zoom sessions, and "your instructional team."
The additional six topics address encouraging active learning, communication, diversity, presence, assessment, and reflection.
The Teaching page also has:
A prominent box with links to essential teaching tools, like Canvas and Zoom.

A box with links to additional teaching tools, including remote computer labs and accessibility resources.
Other parts of Keep Teaching continue as before. CEE and IET will continue to update and revise the site, and invite more feedback through the "Keep Teaching site survey" on the site's main page.