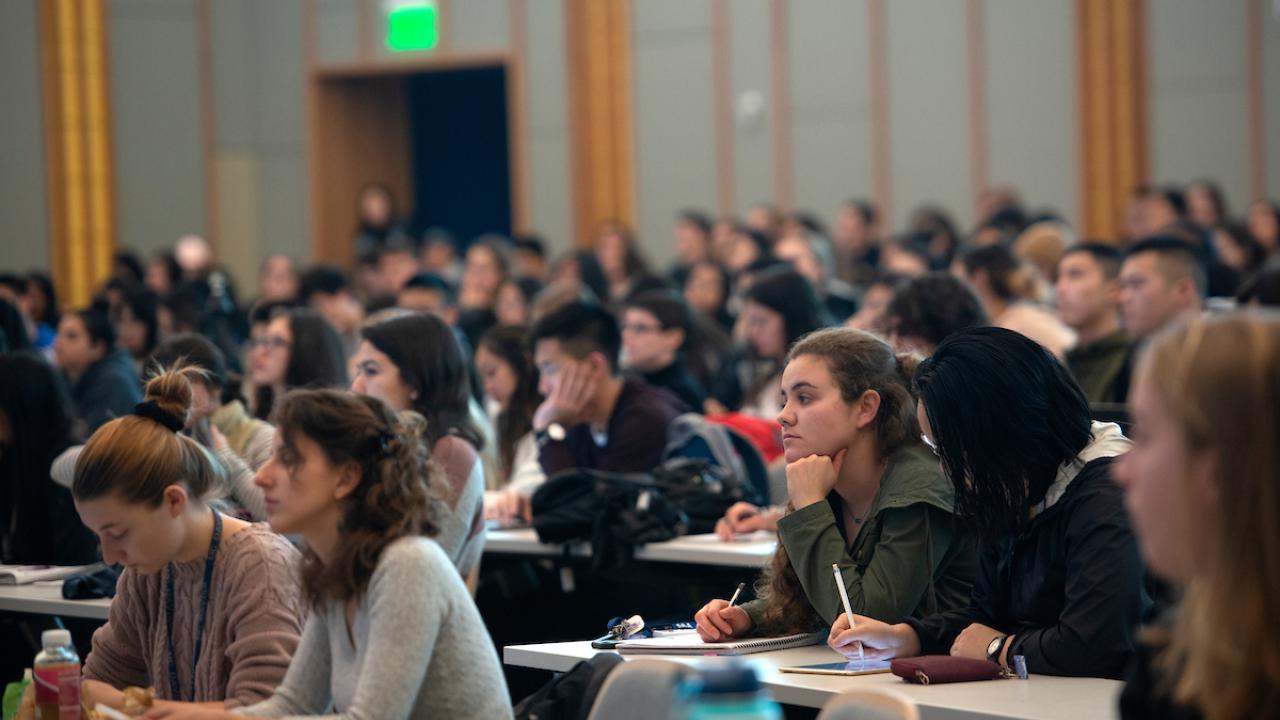 A new resource offers faculty ideas on how they can use or experiment with UC Davis Canvas and other tools of digital learning when teaching at UC Davis.
The resource, presented as a 28-page report, includes examples of how Academic Technology Services (ATS) can assist faculty as they explore and integrate these tools, with services that range from instructional design consultations, and integrating different media in coursework, to recording videos in the eLearning Studio.
"Envisioning the Digital Learning Environment at the University of California, Davis," was written by Dr. Andy Jones, academic associate director of ATS, and Alex Rockey, a Ph.D. candidate in education and graduate student researcher for ATS. Jones, a continuing lecturer in the University Writing Program, has taught at UC Davis since 1990.
A mix of physical and digital
The digital learning environment is a mix of physical tools, such as wi-fi connections, personal response systems, and projectors, and digital tools, such as the UC Davis Canvas learning management system. Working in this environment, the report says, can "expand the traditional classroom's walls and subsequently expand students' learning opportunities."
At UC Davis, this environment is powered primarily by UC Davis Canvas, Canvas tools, and third-party tools—grading apps, for example—that are integrated within Canvas. The campus adopted Canvas in 2017, and faculty are experimenting with more advanced uses of the LMS in their instruction.
"That's why we created a new resource," Jones said.
Using Canvas tools at different levels
The report includes case studies, a list of ATS services, and sections on "Defining Effective Pedagogy," instructional design, and "The Path Forward for the Digital Learning Environment."  
The list of 15 Canvas tools includes suggestions on how to use them at "foundational, "intermediate," and "advanced" levels. For example, instructors can use the Canvas discussions tool to:
Assign discussions to students (foundational)

Incorporate peer review into discussions (intermediate)

Facilitate presentations by guest speakers from around the world (advanced).
"We hope the suggested uses of the relevant tools and integrated media will spur the playful exploration and acceptable failure needed to support a student-centered pedagogy," Jones said.
"Acceptable failure" means instructors might explore a tool and then find it doesn't work in the way the instructor wants, he added. But that experience can lead to a more effective tool or approach, Jones said, and ATS stands ready to assist the search.
For more about this report and related information, please visit The Wheel academic technology blog.