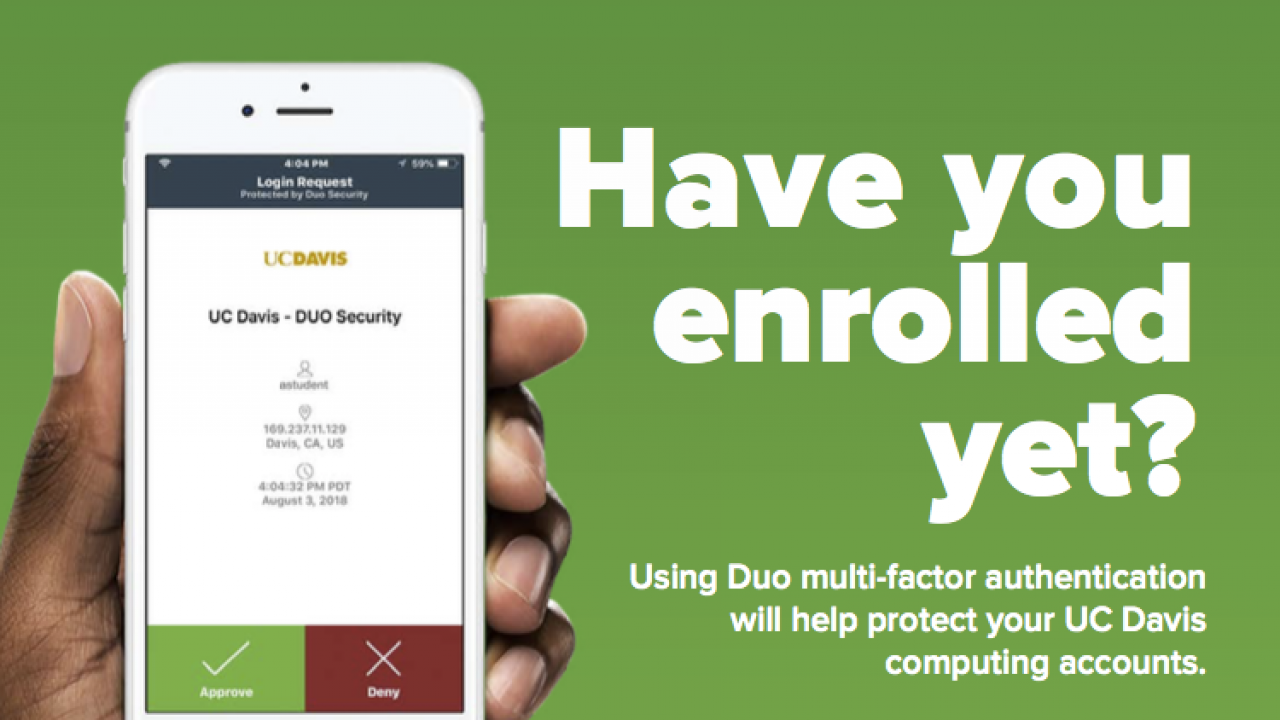 UC Davis has set a target date of Friday, May 31, for enrolling as many faculty, staff, and student employees in Duo multi-factor authentication as possible. If you are among these groups and have not yet signed up, please do so by the end of May.
The Duo requirement does not currently cover campus email accounts. UC Davis has temporarily excluded these accounts from Duo to simplify the Duo enrollment process.
24/7 support for Duo will be available, at a date to be announced.
Enroll before summer travel
Enrolling this spring lets faculty accomplish the task before they leave for summer travel, and well before the Oct. 1 launch date for UCPath at UC Davis. UCPath, which requires Duo for access, is the new UC payroll and personnel system. Staff and student employees should also enroll by May 31 for much the same reason.
Faculty who plan to travel internationally, whether they have Duo accounts now or will soon, should review the information at kb.ucdavis.edu/?id=3833. Faculty headed overseas may also contact their department's IT desk or the IT Express Service Desk if they have questions about using Duo abroad.
UC Davis is adopting Duo to improve the security of information — yours, as well as the information the campus protects on behalf of all who teach, work, or study here. Eventually, certain essential campus services will no longer be accessible without Duo.
For assistance
For help enrolling, please:
You may also sign up by following the instructions at kb.ucdavis.edu/?id=2934.
As a group, approximately 75 percent of UC Davis faculty, staff, and student employees have enrolled in Duo. The campus plans to enroll non-employee students in the fall.
To view a short video that shows how Duo works, or to read more about Duo at UC Davis, please see movetoduo. UC Davis Health employees with questions should contact the UCDH Technology Operations Center, (916) 734-4357.