Another 17 classrooms get major tech upgrades. Up next: Wellman
The campus upgraded another 17 general-assignment classrooms this summer, adding stronger wi-fi, improved audio, integrated video, ADA-compliant systems, and other fresh technology.
The results are impressive additions to UC Davis classroom tech, although a lot of effort goes into making the work itself look like just another day at the university.
The campus has 130 general-assignment classrooms, and each summer it upgrades more than 10 percent of them – sometimes only the technology, sometimes the entire room.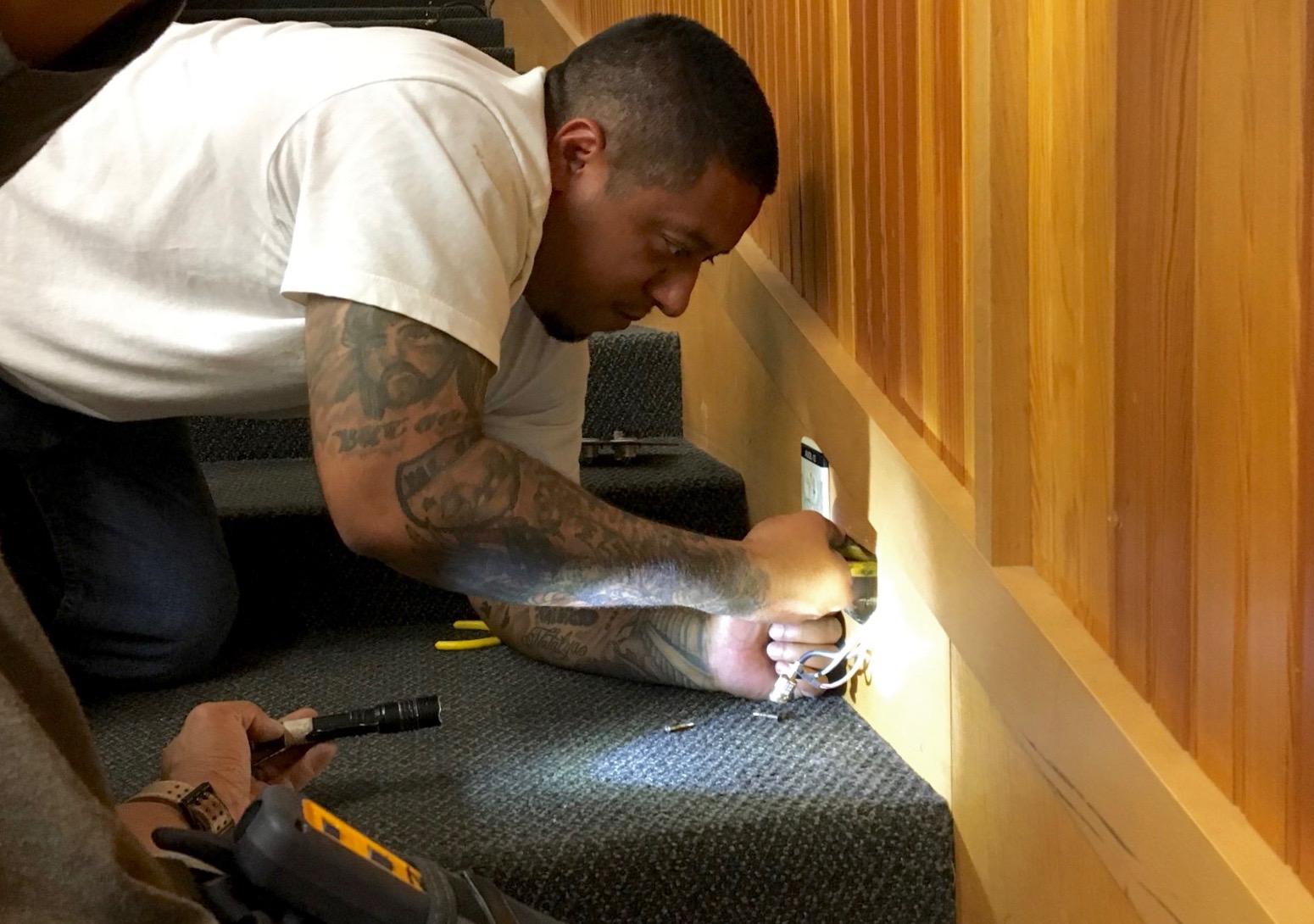 Several campus departments team up to do the work. Information and Educational Technology plans and installs the tech upgrades. It taps the skills of 20 people whose specialties range from programming and installation, to drawing building layouts for old structures where such drawings no longer exist.
Olson is done!
At 17, this year's number of locations was up two from last year. This year's project also wrapped up a three-year renovation of Olson Hall – a milestone for the much-used, 55-year-old building.
In each of the 17 rooms, IET replaced old audio-visual equipment with "smart classroom technology": wireless audio, laser projectors, document cameras, an instructor interface that controls the room, Blu-ray players, lecture-capture services (audio recording and content), remote monitoring, and additional wi-fi services. The instructor desks meet Americans with Disabilities Act (ADA) standards, and have a vertical lift system to accommodate the needs of the instructor.
The rooms also gain internet clocks, which synchronize timekeeping among classrooms.
Students are now enjoying improved technology in:
Sciences Lecture Hall and Chemistry 179. The latter, though just 13 years old, had only two speakers to cover a space that can seat 511. It now has 24 ceiling-mounted speakers that can deliver a full range of audio.

Olson Hall's north wing. Crews fully renovated 10 classrooms, and combined two of the small rooms into one medium-sized room.

Bainer 1060, Hutchison 102 and 115, and Art 204 and 217. They received tech-only improvements.
The buildings differ by age, use, and design. For most, the drawings that show the structure as it was built are incomplete. In those cases, IET engineers create new building layout drawings.
Coming your way, Wellman
Each fall, IET, Design and Construction Management, the Registrar, and Facilities identify which rooms to improve the following summer. They present their list to the Academic Classroom Committee for approval. DCM provides non-tech renovations, including carpeting, lighting, and similar improvements.
Some plans for summer 2019 are already in place: The campus will improve 13 classrooms on the second floor of Wellman Hall, plus another two to four classrooms will get the smart classroom tech. IET will suggest which rooms to the classroom committee in November.
So far, 69 general-assignment classrooms have the new technology. That leaves 61 to go.