Enjoy pizza while listening to FBI agent discuss cybersecurity in higher ed on Oct. 31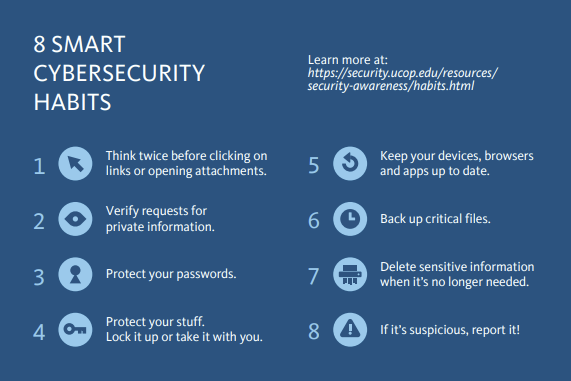 FBI Agent Justin Lee will discuss cybersecurity in higher education from the FBI's point of view during a free lunchtime talk from noon to 1 p.m. Oct. 31 in 1003 Kemper.
Any faculty member, student, or employee at UC Davis is welcome. Pizza and water will be available at no cost, while supplies last.
Lee's talk is the final campus event scheduled as part of National Cyber Security Awareness Month, which looks at cybersecurity from a variety of perspectives. This chart, created by the University of California, presents eight basic habits individuals should adopt to protect themselves and the data they work with. For more resources, see Information Security Tips and Fact Sheets.