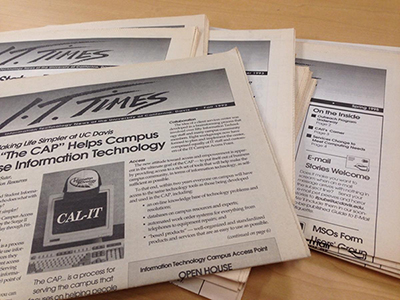 ​TechNews, where Information and Educational Technology posts news about campus tech for non-technologists, is the latest IET website to get updated. On Aug. 2 IET modernized its design and restored a subscription-only, Monday-morning email of TechNews headlines.
The change was one of several IET website updates released Aug. 2. The TechNews change is the most visible.
IET created TechNews in 2003. It posts about 40 items per year. The volume was several times larger a decade ago, but a lot of that former activity now appears on social media instead. Readership of TechNews items grew 12 percent from 2014 to 2015, thanks to links and referrals from other campus outlets including Dateline, aggiefeed, the IT Express Facebook page, other social media, and Staff Voice.
IET and its predecessors have been writing about technology for the campus since at least Oct. 14, 1968, when what was then the campus Computer Center began the Turn-Around Times. The newsletter was largely a technical publication in the 1960s and '70s, because IT was a specialty for a few, not a platform for everyday life. The title played off the frequent question of how long it would take to "turn around" a batch job on the mainframe computer.
As technology spread, the publication grew into a communications outlet to help demystify and explain campus technology to all of UC Davis. The newsletter became the IT Times in 1992, then ended in 2008 (the photo shows a stack of issues from the 1990s). The information it carried now appears online in venues like the TSP (Technology Support Program) listserv, social media, and TechNews.