The move to UC Davis Canvas has begun. Sixty-one instructors have taught with it during Summer Session 1, and the numbers will only grow from here.
The campus is moving to the UC Davis Canvas learning management system (LMS) during 2016-17. Canvas is replacing SmartSite, which will remain available for teaching through spring quarter 2017.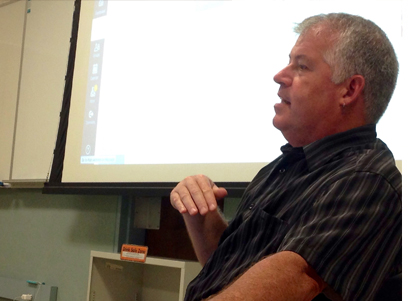 Most interest this summer falls into two categories: Instructors who are teaching with the basic version of UC Davis Canvas now, and instructors who are preparing to start using it this fall or winter when its fuller set of features and integrations is available, and when most of the migration will occur.
Every quarter during the transition, Information and Educational Technology is posting updates and key facts concerning the move to UC Davis Canvas. Here's the latest information:
Log in here: Access UC Davis Canvas at ucdavis.instructure.com
If you need help using it: Assistance is available from Instructure (the vendor) 24 hours a day, 7 days a week. The access options include chat and phone support. To get help, log in to Canvas and click on the "Help" link in the lower left corner of any page, or call UC Davis' Canvas hotline: 844-303-8285.
Workshops and 1-to-1 help on teaching with Canvas: This schedule lists workshops for instructors on how to use Canvas, plus drop-in sessions when faculty can work with one of IET's instructional technologists.
Webinars for faculty, students, staff: This Knowledge Base article has details.
When should I move? Instructors thinking about when to start using UC Davis Canvas might wish to consult this short guide. Early adopters should be comfortable with technology, and/or intend to use Canvas for basic tasks, such as sharing files and communicating with students.
Course sites created: All Summer Session 1 course sites were generated and loaded with enrollments before instruction began. Summer Session 2 courses have been loaded with enrollments, and Fall courses will be added in the middle of summer.
Sites where instructors can prepare for future quarters: Instructors who want to develop course sites for future quarters can do so with "sandbox sites" that have been created for them; content created in these sites can be easily imported to a course site later.
A prime opportunity for faculty to deeply explore UC Davis Canvas: The Summer Institute on Teaching with Technology (SITT) on Friday, Sept. 9, will devote much of its agenda to UC Davis Canvas. SITT will be a good opportunity to explore UC Davis Canvas, ask questions, and learn how peers are using it. SITT is open to all UC Davis faculty and graduate instructors. Updates will be posted at this location.
Workshops by Instructure at UC Davis: Instructors from Instructure will offer extensive workshops at UC Davis during the week of Sept. 6-9, the same week as SITT.
Project sites: If you have a project site in SmartSite that you want to re-create in UC Davis Canvas, please hold off for now. Faculty interest in using Canvas for instruction this summer and fall is strong, and supporting that aspect of the transition is currently the main goal of the Move to Canvas project.
Other tools and apps: Many third-party learning tools or applications work with Canvas. Several are already available for use with UC Davis Canvas, and more will follow. If you would like to use a tool that is currently not available, please send information about the tool to the project team--they are creating a form for this purpose--so it can be evaluated for UC Davis compatibility.
Timeline: For a timeline and more about the transition, please see movetocanvas.ucdavis.edu.
Faculty might also wish to subscribe to The Wheel, the Academic Technology Services instructional technology blog.
If you have questions, comments or concerns about using UC Davis Canvas, please contact the transition project group at movetocanvas@ucdavis.edu.