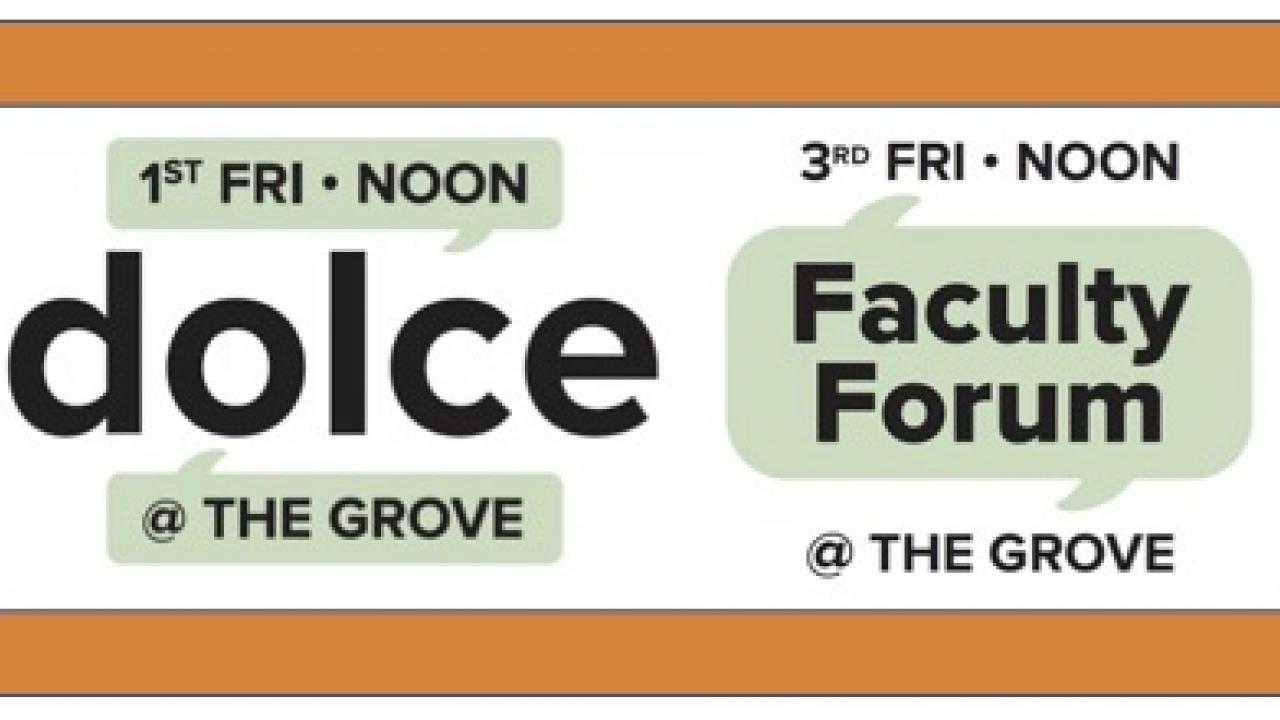 The new schedule of faculty forums and presentations on teaching with technology is out, and the lineup includes a look at the digital learning environment at UC Davis, plus sessions on mobile learning, providing feedback on student writing, online education, and more.
They're all free, and all UC Davis instructors are welcome to attend. The events are part of the ongoing Discussing Online Learning and Collaborative Education (DOLCE) and Faculty Forum series presented by Information and Educational Technology (IET). Each session occurs on a Friday from noon to 1 in 1310 The Grove (Surge III).
The presenters include James Carey, on "Advanced PowerPoint Techniques: Examples from Across the Disciplines," and Jeanette Ruiz, on "Moving Online: Some Lessons Learned," both on May 4; and Dana Ferris, on "Principles and (Best) Practices for Responding to Student Writing," on June 1.
If you're reading this early enough, there might still be time to get to the first presentation of the season at noon on April 6:
"Leveraging Interactions in an Online Language Course," by Spanish Professor Robert Blake
"Gradescope: A tool for fast, fair, and (sort of) fun grading of paper-based exams," presented by Dave Doty, assistant professor in the Department of Computer Science, and Steve Pigg, executive director of Information Technology for the College of Engineering
Digital learning at UC Davis
The spring lineup also includes a "bonus" session: A presentation May 11 on the digital learning environment (DLE) for UC Davis, which will preview a talk that Andy Jones and Alex Rockey will give at the Computers and Writing Conference two weeks later at George Mason University in Virginia.
"Basically, we are presenting on our experience thinking about what the digital learning environment is at UC Davis, and how Academic Technology Services [ATS] and instructional designers support and enable faculty as they work in the DLE," Rockey said.
"The idea is that digital learning environments, despite multimodal affordances, can make the learning experience more heavily text-based. As such, it turns us all into writing teachers," she said. "So, drawing from Online Writing Instruction principles, we will be presenting about how these principles could be adapted to guide instruction in all classes in the DLE."
Jones, academic associate director of ATS in IET, has been an instructor at UC Davis since 1990. He also hosts DOLCE and Faculty Forums. Rockey is a PhD student in Education and a graduate student researcher in ATS.
For updates and other information about academic technology at UC Davis, read The Wheel.