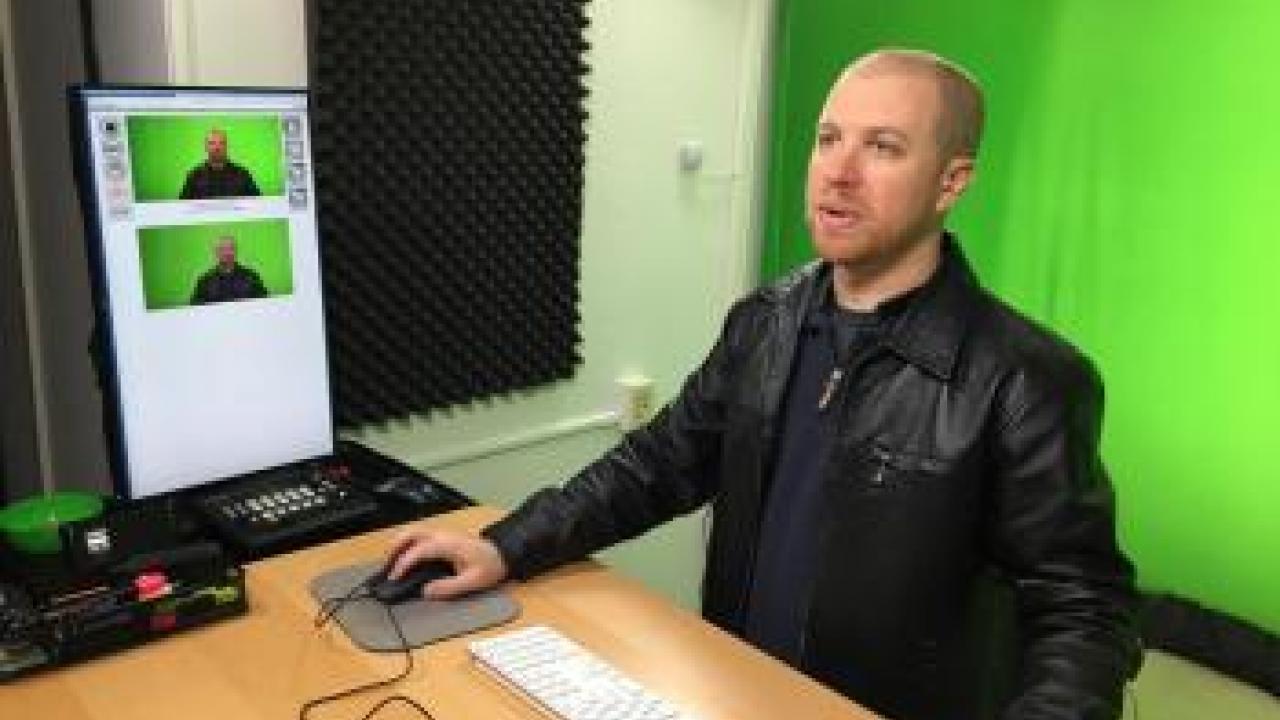 The eLearning Studio in 50 Hutchison, a high-quality, lower-cost recording center that faculty use to make instructional videos, has been refreshed, simplified, and is ready for wider use.
Faculty have typically used the studio to narrate slides, "but people are starting to be more creative with it," says Instructional Designer Mark Wilson (in photo), by creating scripted segments instead of simply recording a standard lecture. Wilson and other academic technology specialists can assist with ideas and advice about how to optimize the use of video.
The room has features you'd expect—a wireless microphone, good lighting and acoustics, green screen background, movable camera—and some you might not, such as the "learning glass" that functions as a sort of transparent whiteboard between the speaker and the lens. "The recording controls have been streamlined down to two buttons and a joystick," Wilson says, "which you use to aim the camera."
Lecture-capture familiarity
The studio uses the same lecture-capture technology available in general-assignment classrooms. "The biggest benefit is the space itself," Wilson says. "It's better than recording in a classroom, where the sound, lighting and other conditions have varying quality."
Faculty use the videos in traditional, hybrid or online courses. Once they record their video, they can plug in their drive, or a borrowed thumb drive, and take away an Mp4 video file they can edit.
As for what to record: Wilson and other specialists can offer ideas on structure. Just recording one long, unbroken lecture is not terribly effective, he says. It's better to present lessons as a series of short videos. The sweet spot for a video is 5 to 7 minutes, because students will stay engaged for that.
When instructors are new to the subject, Wilson suggests they start by making one video of about that length. "Once you get people rolling, they say, 'Oh, I see how this develops.' "
How to book the room
Faculty will be able to book the room during normal business hours through an online calendar. Academic Technology Services (ATS), a unit of Information and Educational Technology, supports the studio. Students from the ET Partners program will prepare and then close the studio before and after an instructor uses it, the Faculty Support group is handling day-to-day customer service, the Instructional Design team (Wilson) is taking care of faculty engagement, and Media Services is supporting the room's hardware and software. Until the calendar is ready, faculty can reserve the room by contacting elearningstudio@ucdavis.edu.
Information and Educational Technology invested in the improvements to reduce the expense of creating high-quality video for instructors, compared to what a full studio production would cost.
The eLearning Studio is several years old. Wilson joined IET in May 2016, and as he watched faculty use the room, he thought of ideas to improve it. ATS encouraged him to give the resource a fresh look, and these changes are the result.
"Jeremy Cooke, Tim Kerbavaz, and Jeremy Poulos designed and built the new tech," Wilson says. "They did the heavy lifting to get everything ordered, assembled, programmed, and working. They did a great job in there."